 The xLAN master server, which is only required to resolve channel names, has changed hosts and requires a quick change to the settings on everyone's client. The creator of xLAN, Kavawuvi, has hosted this service for the community at his own expense for years (thanks!) and now we're taking it off his hands and hosting it at halo1hub.com.
For those unaware: xLAN is a LAN-tunneling application used to simulate a System Link environment over the internet, much like XBC or XLink Kai. The difference with xLAN is that players will always be able to connect via direct IP without relying on a connection to a master server. The master server is used only to allow players to join each others' channels via channel name instead of IP address. For more information about xLAN, visit the xLAN Setup page.
To donate towards the recurring (and perpetual) hosting fees, visit the Community page and click the Donate button. All contributions are greatly appreciated and will help ensure the continued hosting of the new xLAN master server.
How to Change the Master Server Address
Step 2: Change the Hostname / IP address to: xlan.halo1hub.com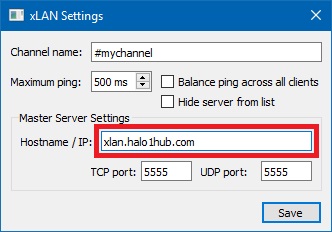 Alternatively, you can re-download the xLAN package, which has been updated to include the new master server address in the default settings. Simply delete your old xLAN folder before and start fresh.
Available for download here: http://halo1hub.com/downloads/XLAN.zip